3 Steps to Join Us!
---
Download and Print Coupon

Click the following link to download the PDF for this coupon and print it. You only need one coupon per family. (*For new students only) Click HERE to download coupon

Call Us!

Call us at 541-344-2715 during business hours and make an appointment for your free trial lesson.

Join!

If you enjoy your lesson (and we're sure you will!) then make the small $49 investment for one month of unlimited classes and claim your free uniform!
After your month-long trial membership is over, take advantage of discounts on monthly tuition for each family member enrolled.
Positive thinking, acting, talking starts with you, but when your family is on the same path, you are all growing together!
And just in case you missed the download link, here is the coupon. Click it to download a print-friendly PDF.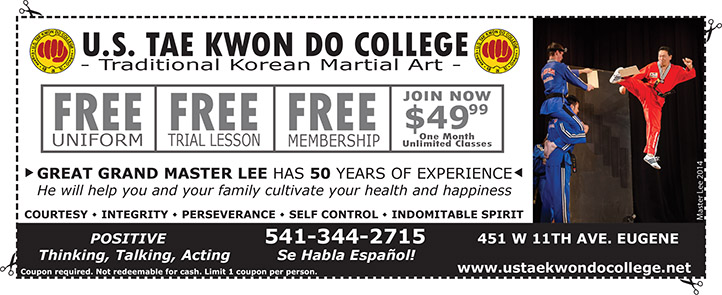 Frequently Asked Questions
Many people join our school as the first step to getting in shape. We do recommend that you consult your doctor if you have any doubts or concerns. Many people want to give 100% on their first day, but we recommend you take the long view and ease into your training. Do what you are comfortable with and your progress will be more consistent.
ABSOLUTELY! In fact, we highly recommend that you do! Many of our students are parents who saw how much fun their kids were having and decided to join too! This is an incredible family bonding activity. We offer discounts to each additional family member who joins.
You don't need any experience whatsoever. Our white belt classes are set up for beginners. Everyone training here was once a white belt, so never be shy about asking questions. We are here for you!
There is no dress code for your trial lesson. Just wear something comfortable and allows you to move freely. For example, many people wear sweat pants or workout pants and a t-shirt.
As a beginner, we don't recommend overdoing it because of the risk of injury. However, if you are ready for a challenge as a white belt, you can come to 12 classes per week. Upper belts (green and up) can come to up to 18 classes per week. Check the class schedule for details.
Get in Touch
---
Contact us during business hours to schedule your trial lesson! We look forward to meeting you!
Hours
---
Monday12pm – 1:00pm, 4:00pm – 7:30pm
Tuesday 5:00pm – 8:30pm
Wednesday12pm – 1:00pm, 4pm – 8:30pm
Thursday5pm – 7:30pm
Friday 12pm – 1:00pm, 4pm – 6:30pm
Saturday 10:30am – 12pm
Sunday CLOSED
---
Contact
---
Address 451 W 11th Ave, Eugene, OR 97401
Phone 541.344.2715
Email youcandoit@ustaekwondocollege.net