---
In 2018 U.S. TaeKwonDo College celebrated 30 years in Eugene and all the lives Great Grand Master Lee has touched. Watch this video to learn why students love his school.
Welcome New Students!
Curious? Keep scrolling for more info!
Ready to Join?
More than taekwondo, family fun, fitness, self defense, and more than a sport; we grow individuals with courtesy, integrity, perseverance, self-control and an indomitable spirit!
Get your 50% off Coupon!
Come Back!
Have you trained in TaeKwonDo before?
Been a While?
Want to restart after a few years away? Coming from another school? Are you a returning black belt? Don't be shy! We will help you transition back into training! Don't forget your coupon!
Call Us for Info
U.S. TaeKwonDo College an amazing place for family fitness, positive living, martial arts development, and working up a good sweat. The one person who pulls it all together and lives a life of example is the school's founder, Great Grand Master Lee. These are just a very few of his amazing accomplishments. (We'll talk about the Teenage Mutant Ninja Turtles on another page.)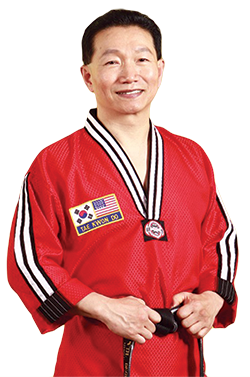 9th Degree Black Belt (Kukkiwon, World TaeKwonDo Federation)
Over 50 years training, competing, demonstrating and teaching TaeKwonDo
Powerful motivational speaker for company events, schools and sports events
Honorable U.S. Army Lieutenant Colonel
Former Korean Army Head Instructor for Hand-To-Hand Combat
Former Korean Secret Service Agent
Former International Sparring Champion
Former U.S. National and International TaeKwonDo Referee
Former U.S. Olympic TaeKwonDo Trial Judge & Trainer
Best place for martial arts in town. Period. Great staff. Great friendships. Great mentors.Nadine Batya
Great Grand Master Lee is truly one of the greatest men I have ever known. He is without any doubt the very best teacher of TKD. We enjoyed our years with him very much. He is greatly respected by our family.Mandy Shellhart
Learned a lot here! Taught me how to be a man, soldier & leader. And above all, Great Grand Master Lee was like another Father-Figure to me. I fully recommend this place as one who earned his 3rd Dan here. God bless USTC!!!Bill Evans
At first, it was just my husband... about 6 months later it was my husband and both sons... another 6 months and now our whole family has joined. This place is wonderful! They really work with the kids, and they make everybody feel included. Plus they work your butt off!Suzanna Fitch
What a great place to learn self defense and confidence! I've lost 50 pounds since I started this program!! The 5 tenants of Taekwondo are: courtesy, integrity, perseverance, self control and indomitable spirit. These are things we should all learn for self improvement. What a positive environment for adults and children alike! The children's classes are structured and fun at the same time. I truly look forward to going to class every time!Nancy Ragonesi
I have trained with with many Taekwondo Masters before moving to Eugene, OR. I have even trained with some of the Grand Masters in Korea and I can tell you with certainty Great Grand Master Lee (a 9th Degree Black Belt; there are only ~100 in the world) stands above the rest!! His knowledge and experience is unparalleled. This man trained an Olympian, created a workout routine for the entire U.S.A Olympic Team!! His list of accomplishments would take me forever to list!! I have never before seen someone portray so much positive energy. He teaches his students positive thinking, talking, acting and once you set your mind with enthusiasm and persistence NOTHING is impossible! I could not believe how lucky I was to move to Eugene and I will always be grateful to this school and to Great Grand Master Lee!!Timothy Quinlan